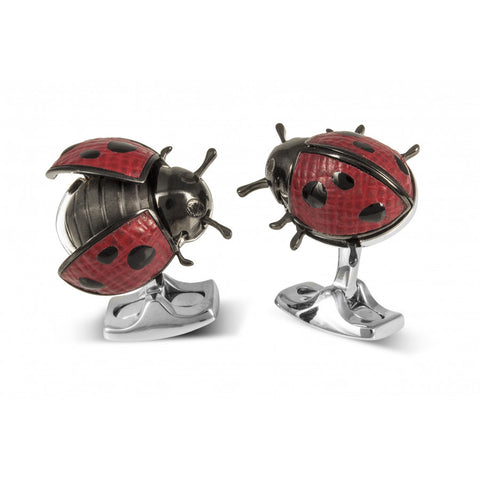 Deakin & Francis Moving Ladybird Cufflinks
Pickup currently unavailable
These beautiful, unique ladybird cufflinks are sure to knock the spots off anyone who wears them!
Inspired by childhood nature trails and the great outdoors, these delightfully friendly little love bugs have been hand-assembled out of 38 highly engineered components to bring you a pair of cufflinks like never before.
Modelled to perfection, these striking insects feature beautiful, inlay-ed, deep red, leather wings and carefully hand-painted black spots and eyes which look stunning against a crisp white shirt.
However, gently squeeze the shiny antennas together and watch as the ladybirds raise their realistic, articulated wings. And, as the wings slowly lift, they will reveal a distinctive, modernist black inner body of a beetle.
Traditionally associated with good luck, these love-bugs are a match made in heaven! The perfect romantic gesture for Valentines or a special occasion they are sure to make anyone who wears them fall in love with them.